As the world recalibrates to the new normal, we're giving back to the community by releasing our most popular assessment tools for free. Starting today, anyone can have an accurate and holistic view of what's at risk in their organization. Cybercriminals, fraudsters, and others with malicious intent have no right to prevent you from sleeping well at night. We've all been through enough uncertainty in 2020. The future may be unpredictable, but it's completely manageable when you know your worst-case cyber scenarios.
Know Your Cyber Maturity in Minutes
Our free tools are the first step towards cyber resilience. They let you understand your current cyber state and facilitate a foundation for continuous growth.
Check out what's now included without a license:
NIST Cybersecurity Framework (NIST CSF)
The first framework we have to offer is NIST CSF, the world's most popular cybersecurity framework. NIST CSF's structure contains 5 easy-to-understand functions – Identify, Protect, Detect, Respond and Recover. Above all, this framework drives collaboration across the organization including non-cybersecurity experts, boards of directors and other executives.
NIST Cybersecurity Framework (NIST CSF) Quick Launch – Coming Soon
The NIST CSF Quick Launch is an 8 multiple-choice-question cybersecurity program assessment. It's created for those who are at the beginning of their NIST CSF-based cybersecurity improvement journey. This assessment focuses on the initial priorities that lay the basis for other elements. Once these priorities are in place, organizations can easily transition to the full assessment framework.
Cybersecurity Capability Maturity Model (C2M2)
The Department of Energy created the C2M2 in close collaboration with organizations within the energy sector. It's a very thorough cybersecurity program assessment that is suitable for all types of organizations. Its comprehensiveness not only helps organizations check what security measures they have in place but also how they're carrying those activities out. Additionally, C2M2 provides a thorough view of your cybersecurity maturity and what needs to be done to attain the next maturity level.
Cybersecurity Capability Maturity Model (C2M2) Quick Launch
For those earlier on in their cyber resilience journey, Axio created a C2M2 Quick Launch assessment. This 14 multiple-choice-question cybersecurity program assessment focuses on the foundational elements of building a cybersecurity program. Once you have the foundation, you can easily transition from the C2M2 Quick Launch to the full assessment framework.
Our assessments come with a note taking feature that allows you to jot down ideas, comments and next steps as you are taking the assessment. The C2M2 and NIST CSF both contain help text to guide you through each question. Additionally, both assessments also have an action items feature that lets you document and set deadlines for next steps. Our features are there to empower continuous improvement and to facilitate the planning process.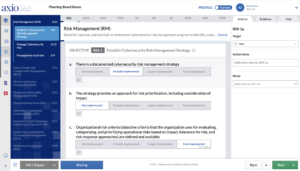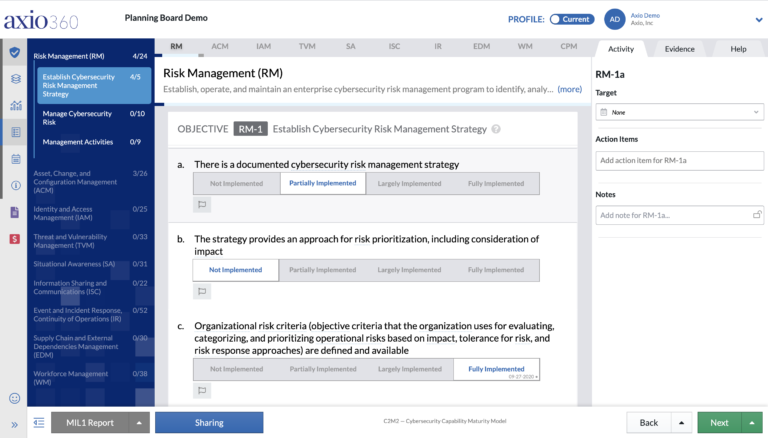 With four cybersecurity program assessment options, you may wonder which to choose. Here are a few things to consider while picking a framework:
What regulations or compliance standards am I subject to?
How advanced is my current cybersecurity program?
What are my company standards or policies?
Your first initial assessment can be the baseline from which you build your cybersecurity management program. After establishing a baseline, utilize our features to build your cyber program and take steps towards improvement. However, after some time or after implementing new initiatives, you can go back into our platform and re-assess your program to see the progress you've made and what still needs to be addressed.
Secure your organization and improve your cyber risk management by taking full advantage of Axio360's free tool.