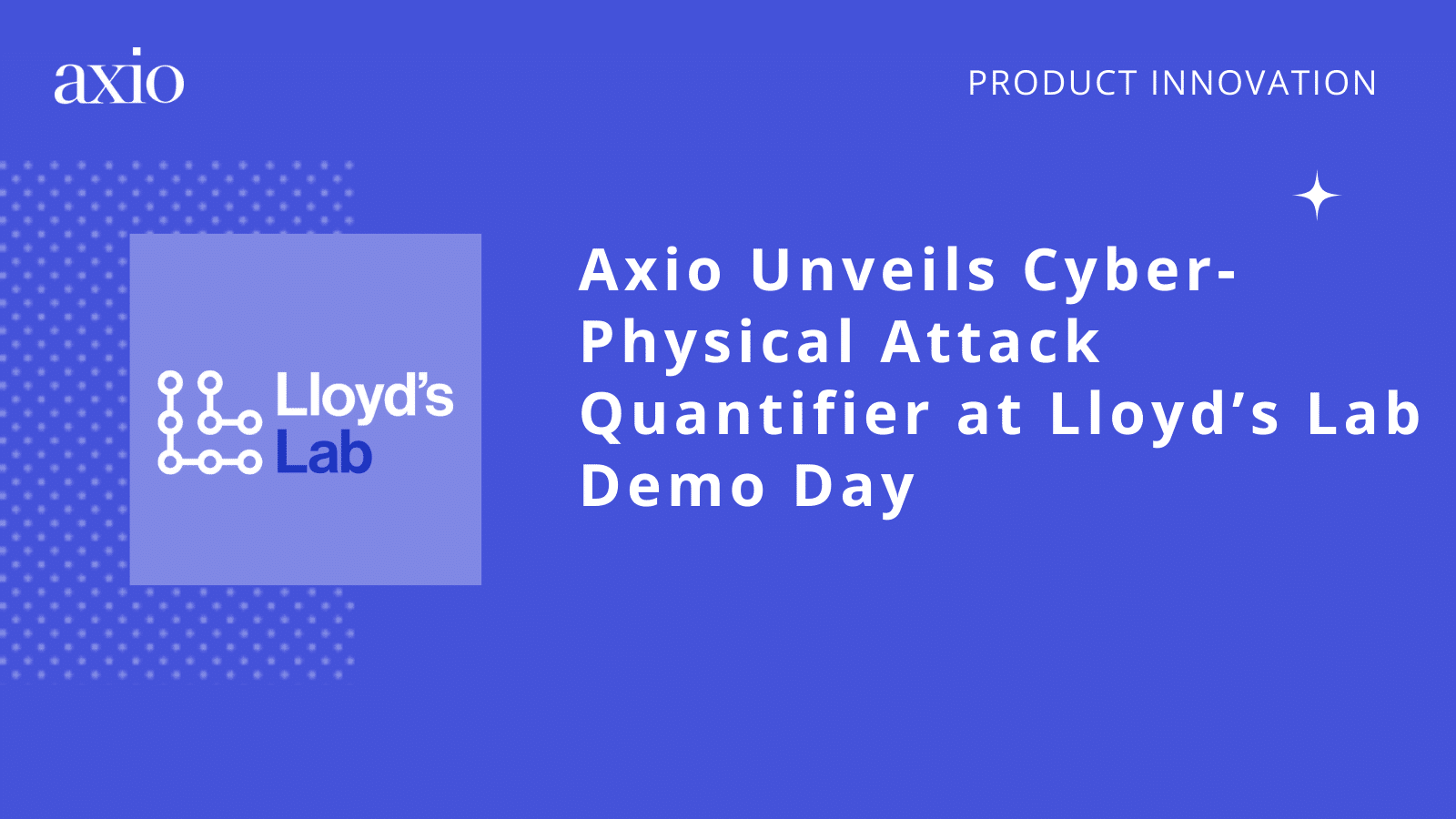 Innovative Solution Helps Critical Infrastructure Organizations Understand Cyber-Physical Damage Risk and Offer Sustainable Coverage for Exposure
New York, NY – July 5, 2023 – Axio Global, the leading provider of cyber risk quantification software and services, today showcased a new product concept for quantifying cyber-physical attacks. The event was held at Lloyd's in front of a live audience and streamed globally. The demonstration was the culminating activity of the Lloyd's Lab 10th Cohort, a 10-week incubator program for the development of new solutions for the insurance industry. The global program received over 200 applications from 32 countries in which Axio was one of 13 chosen by an expert panel of Lloyd's and market stakeholders
"We are so honored to be selected as one of the participants in this year's inaugural InsureTech cohort," said Dale Gonzalez, Axio's Chief Innovation Officer and Insurance team lead. "The insurance market has been struggling with the issue of cyber risk for the past decade. There's a fear cyber risk can't be priced with any level of confidence owing to a lack of usable data, however owing to the needs of organizations who desperately desire this type of coverage – many of them are owners and operators of critical infrastructure and are clients of ours – then being able to articulate and then find insurance cover for cyber-physical attacks are a top concern. We've worked with the insurance market through the Lloyd's Lab to build a solution."
Axio's participation in Lloyd's Lab is a natural progression of Axio's dedication to helping quantify cyber risk for critical infrastructure organizations. Axio has deep roots in the insurance industry and in securing the world's most critical assets. Co-founder Scott Kannry was closely involved in developing the first commercial cyber insurance products as an executive at Aon. While co-founder David White was the security architect for the C2M2 model and helped author and contribute to many of the world's most widely used cybersecurity assessment frameworks, which are available in Axio's SaaS platform Axio360.
Axio360 enables organizations to transfer risk capital using an optimal balance of financial and security controls. The platform has a complete suite of features to assess, manage, and plan cybersecurity improvements. The company's critical infrastructure customers have successfully used the platform to quantify cyber threat scenarios beyond the financial impacts of a data breach, such as physical disruption and complex business operations.
"As someone closely aligned with the cyber insurance industry, not least from my years as a cyber underwriter, I've seen firsthand the need for a product with the capabilities we showcased at Lloyd's Lab. It's deceptively simple but its intent is for rapid scalability and ease of use – and I'm confident that we have a platform offering that can be utilised market-wide" said Axio's VP of Insurance, Peter Hawley. For more information you can visit learn.axio.com/lloydslab.
About Axio
Axio focuses on key areas of an enterprise that represent the highest risk so organizations can budget wisely, improve cyber resilience, and demonstrate duty of care. The Axio360 platform is a decision-making engine for holistic cyber risk management, including cybersecurity assessments, cyber risk quantification (CRQ), risk transfer, and cyber insurance analysis. Axio's industry-leading cybersecurity performance management software aligns security leaders, business leaders, and Boards of Directors around a single source of truth about their most critical corporate risks. Since 2016, Axio has been a trusted partner to many of the world's leading critical infrastructure, energy, manufacturing, and financial services companies, helping drive better visibility and decision-making about cybersecurity priorities and investments. For more information, visit learn.axio.com/lloydslab.
Media Contact
Alexandra Pony
Silver Jacket Communications for Axio
[email protected]