What is Cyber Risk Management?
Companies around the world have fallen victim to cyber adversaries. The detrimental effect of a successful attack can make it difficult for companies to recover. Because of many potential risks, cybersecurity has become an essential part of running a business. Cyber risk management is the process of pinpointing potential cyber threats and systems vulnerabilities and addressing concerns to secure your organization. Many aspects of our organizations and communities are digitally connected. It's important to capture potential cyber threats across different business functions and continuously be on the lookout for emerging dangers.
Managing cyber risk includes creating solutions and developing strategies to protect against threats. This growing responsibility is now at the top of everyone's mind, including the CEO. As covered in a previous blog, CEOs have left their positions following a cyber event. However, there's predictions that CEOs will soon also be held personally liable for these attacks. Cyber-attacks don't just affect sensitive data; it affects people, physical infrastructure, and the overall company. Without effective cybersecurity risk management in place, every business function is in danger.
Cyber Resilience is a Necessity
COVID-19 has led to more cyber threats – making cyber risk management more important than ever. Without an effective cyber risk management system, you will leave your company vulnerable to cyber threats. Cyber-attacks can affect many departments and possibly third-party organizations you are in partnership with. When a company suffers a cyber incident, they face a plethora of consequences. As mentioned, CEOs may be held personally liable for cyber events in the future. Companies may also lose revenue, taking on a financial setback. In addition, their reputation will be damaged, and it may discourage consumers and clients from purchasing or partners from collaborating with them. Data breaches can lead to a leak in company intelligence that could have given them a competitive edge. Moreover, attacks may infiltrate privacy and there may be legal consequences if personal information was accessed.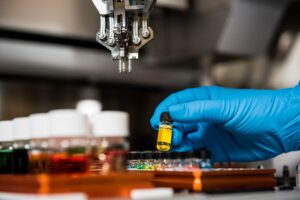 Cybersecurity risk management in the recent years have also become a compliance requirement for those in the critical infrastructure space and the medical industry. This is because for those in the critical infrastructure space, a cyber-attack can also pose physical threats. For example, an attack that leads to a long-term power outage in a neighborhood can potentially affect a hospital, literally putting lives at stake. Moreover, the medical industry abides by HIPAA regulations to protect sensitive patient information. Having an effective cyber risk management program in place decreases an organization's vulnerability. This includes, preparing against the low-frequency but high-impact events that companies may not have the capacity to recover from. Building cyber resiliency is also a way to protect your consumers, employees and other stakeholders as well as a way to build your reputation.
7 Key Elements to Creating an Effective Cyber Risk Management Program
In order to build a strong program that secures your organization, we compiled a list of important considerations to keep in mind.
Establishing a culture of security across the company

Cybersecurity is a concern that affects everyone in an enterprise, no matter which business unit you're in. According to Carnegie Mellon University's SEI, it's important to continually train employees about dealing with cyber risk. Additionally, having leaders from each business unit work with the cyber risk team to identify and address gaps exposing them to potential risks is important to securing an organization.

Identifying risk – selecting a framework to help you assess

The next element is assessing your current state to identify and call out risks. Using a framework can give you the guidance needed to gain a holistic view of your cyber risk.

Establishing priorities

Most companies don't have unlimited budgets and resources, so the question is – which risks or solutions should be implemented first? Answering this question requires company leaders to brainstorm and decide which gaps require the most immediate attention to improve security controls.

Benchmarking against peers

Knowing how you're doing in comparison to your peers gives perspective on if you're doing enough. This way you're not lagging behind others.

Planning for the future

Once you know the current state of your cyber risk assessment, the next step is creating an actionable plan and developing targets to improve your program.

Continuous improvement of the cyber risk management process

Revisiting your cyber risk assessment is important. After some time has elapsed or after control implementations, re-assessing your cyber risk management program will show your progress.

Putting your cyber risk in dollars and cents

As your cyber risk program matures, quantifying risk can show the financial impact of potential cyber events. Additionally, organizations can calculate the impact of security controls to decide which investments provide the most value.
Bringing cyber risk management to life with a dynamic platform
Many organizations manage their cyber risk using spreadsheets of data. However, this method can be disorganized and overwhelming. Spreadsheets can be hard to maintain and takes up a lot of time and resources. Organizations need a more efficient way for managing cyber risk. Specifically, they need a platform that provides a holistic view of their cyber program. It's necessary to have a platform that's organized, easy to manage and collaborative. With Axio360, this is exactly what we strive for.
Axio360's assessment module comes with a number of top cybersecurity frameworks that you can use to assess your current cyber posture. Additionally, we have a benchmarking capability to show you how you stack up against your peers. Our platform allows you to create action items, assign team members and set deadlines to easily create a plan to improve your program. Axio360 also allows you to visualize your goals and collaborate with team members. Axio360 wants to enable organizations to best secure themselves.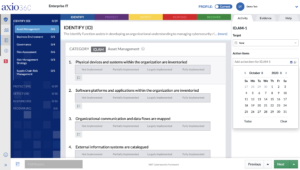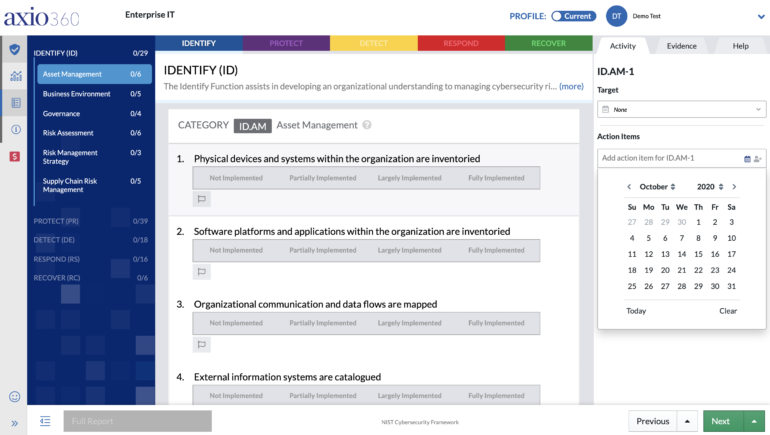 Defending against all cyber threats is not realistic but it's important to be prepared, especially for significant cyber events. As your company grows, be sure to continuously reassess your cyber program and improve your cybersecurity risk management program. For more information on continuous cyber improvement, download our free eBook.