The United States appears on the brink of cyber catastrophe. As recent attacks on Kaseya, SolarWinds, Colonial Pipeline, JBS and others have demonstrated, the nation's digital and physical critical infrastructure is under increasing assault from highly sophisticated cyber adversaries. The Biden Administration's recent memoranda underscored that no company is safe from a business-crippling cyber event.  And it's abundantly clear, despite increasing investment in cyber tools and programs, existing approaches to cyber defense are simply not working. 
It is against this backdrop that I am excited to announce that I have joined Axio as the Chairman of the Board. Axio is an innovative cybersecurity company whose solutions help some of the nation's largest energy, utility, and manufacturing companies better manage their cyber risk. 
Over the course of my tenure as CEO of BP, I had the privilege of working closely with some of the most sophisticated cybersecurity firms in the world. Our cyber teams defended BP's networks against the most advanced and relentless cyber criminals worldwide. Our security leaders would also routinely brief me on the financial, environmental, and societal upheaval that could occur as a result of a wide-scale cyber-linked outage. Understanding how cyber threats could threaten our business was a foundational element to designing our enterprise risk management strategy. 
Yet despite the daily headlines of seismic cyber-attacks and data breaches, I frequently encounter corporate leaders who struggle with answering the most basic questions pertaining to their own corporate cyber exposure. In far too many companies, cybersecurity continues to be viewed as a technical problem, requiring technical products and expertise. This view is misguided. Cybersecurity is fundamentally a business problem, as it could pose an existential risk to whether a company succeeds or fails. 
While the growth of dedicated cybersecurity committees at the Board-level will surely drive better alignment between security practitioners and corporate leaders, Chief Information Security Offices (CISOs) in particular need to do more to bridge the gap between their teams and their CEOs and their Boards. The solution begins with better communication; when security and risk leaders are unable to communicate how their initiatives, programs, and roadmap align to the organization's overall business objectives, they should not expect to gain consensus and buy-in around what they see as the way forward. Likewise, CEOs and Boards of Directors can't begin to properly assess the level of budgetary investment a security program requires if they can't quantify the risk a cyber adversary poses to their business operations. 
Better cyber management starts with addressing these fundamentals – and that's why I have concluded that every CISO, CEO, and Board Member needs Axio to build, manage, and optimize their cyber programs. Axio is the missing link in many organizations and I am excited to be working alongside Scott Kannry, David White, and the rest of the Axio leadership team as they continue to scale their business and solve some of the most pressing cyber challenges we face. 
---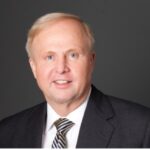 Robert (Bob) Dudley is the retired Group Chief Executive and Director of BP, plc, a position he held from 2010 to 2020. Mr. Dudley had a career with BP and its predecessors spanning over 40 years, serving in a broad range of engineering, commercial, strategic, international, and executive roles. In 2018, he was named the Petroleum Executive of the Year by Energy Intelligence. Over his career, he gained experience in strategic planning, risk management, international operations, HSE, and operations matters. 
Mr. Dudley holds dual American and British citizenship. He earned an MBA from Southern Methodist University, an MIM from the Thunderbird School of International Management (now part of Arizona State) and a BS in Chemical Engineering from the University of Illinois. 
Currently, Bob is chair of the international, industry-led Oil and Gas Climate Initiative, committed to accelerating the industry's response to climate change. He serves as a director of Rosneft, LyondellBasell Industries NV, and Freeport-McMoRan, Inc. He chairs Accenture's Global Energy Board.  He is a member of the US Business Council and a fellow of the Royal Academy of Engineering in Britain.