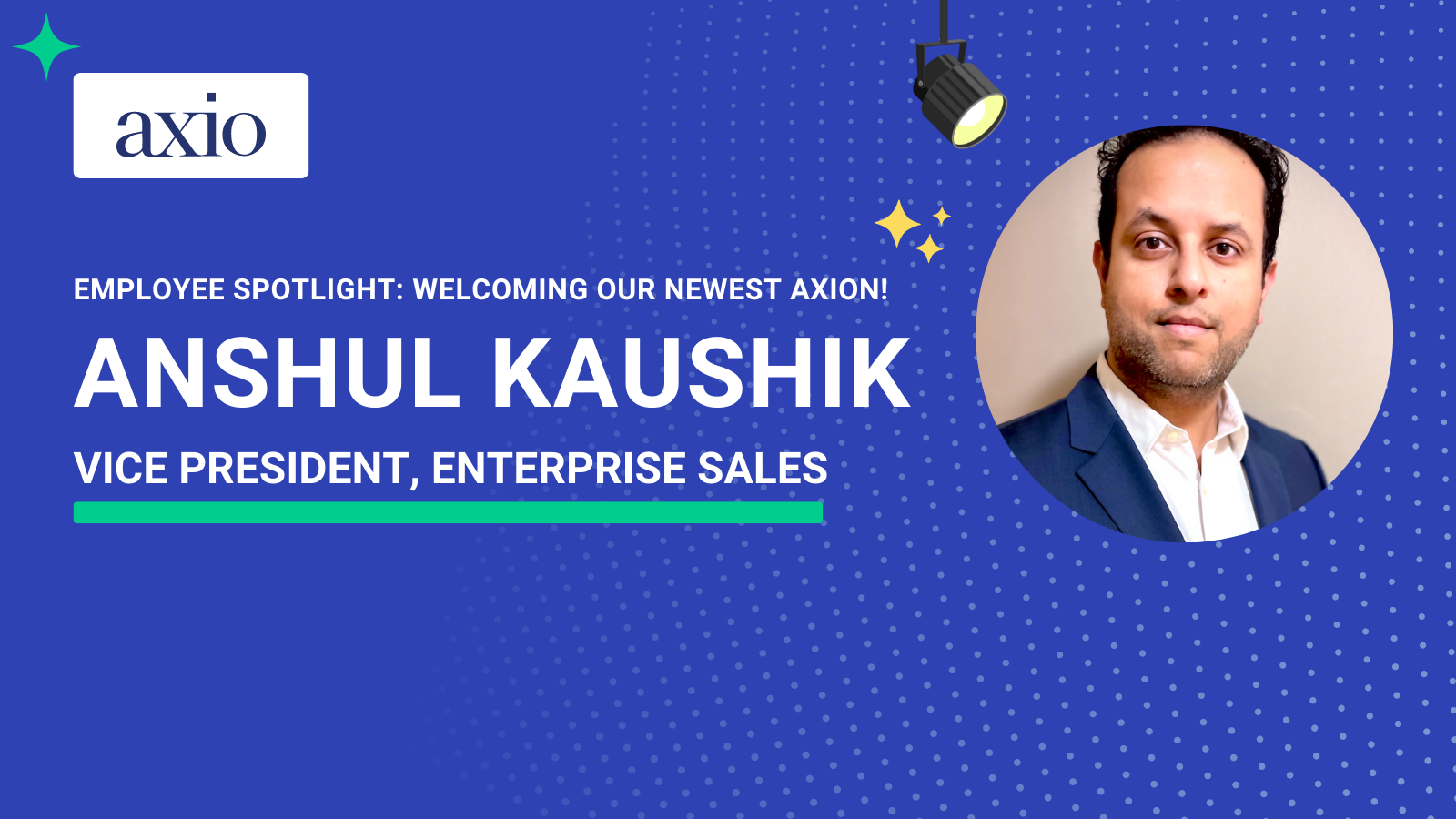 As we continue to grow our Axio family, we're turning the spotlight on our newest members. Today, we're excited to welcome Anshul Kaushik to the team. Anshul is the newest Sales team member at Axio, joining us as VP of Enterprise Sales.
What excites you about working at Axio? 
I am excited about where Axio is going with Cyber Risk Quantification; as organizations continually grapple with cyber security challenges, I believe Axio can help customers see the business side of Cyber Risk and Security. What we are continually seeing is both spending and breaches are growing exponentially for companies to manage, so how can they really get a grasp on all of this? This is where I see Axio come in to start answering some key questions for organizations out there. I find this to be a unique opportunity to lead the market in something that truly has not been addressed.
 How did you get started in cybersecurity?  
Early on in my career, I had a unique interest in cybersecurity, and I found it to be an ever-growing field that somehow kept the challenge going. My first foray came at Symantec, where I got to deal with Enterprise customers facing challenges with email and authentication. After that, a customer later recommended me to a Security Consulting firm where I really got to see the depth of security and the uphill battles that came along with it. This opportunity changed the course of my career, where I naturally started to focus on cybersecurity and kept growing within the field.
What interests you about cybersecurity?  
Cybersecurity intrigues me as an ever-growing field, something you can't rest in; there are always unique things that come up and keep you on your toes. The opportunity to continuously learn and adapt is something that now keeps me excited within this field.
Where are you from/where do you live? 
My family and I live in Toronto, Canada. Originally born in India, I have had the opportunity to live in many places, as a lot of my friends and family know, I truly consider Chicago to be my home. It's where I grew up before moving with my parents to Canada for the last part of high school. Toronto is an amazing place, the summers are great, and the winters are COLD!!
What is your favorite place you have traveled to? 
My favorite place so far has been Singapore, a place where various cultures have come to meet and grow. My wife and I both have been to Singapore and love it. The weather, the beaches, and resorts are great. It's a place with quite a bit of history. I always found how they have adapted to technology to grow society impressive.
Welcome to Axio, Anshul! We're thrilled to welcome you to our growing, vibrant team!