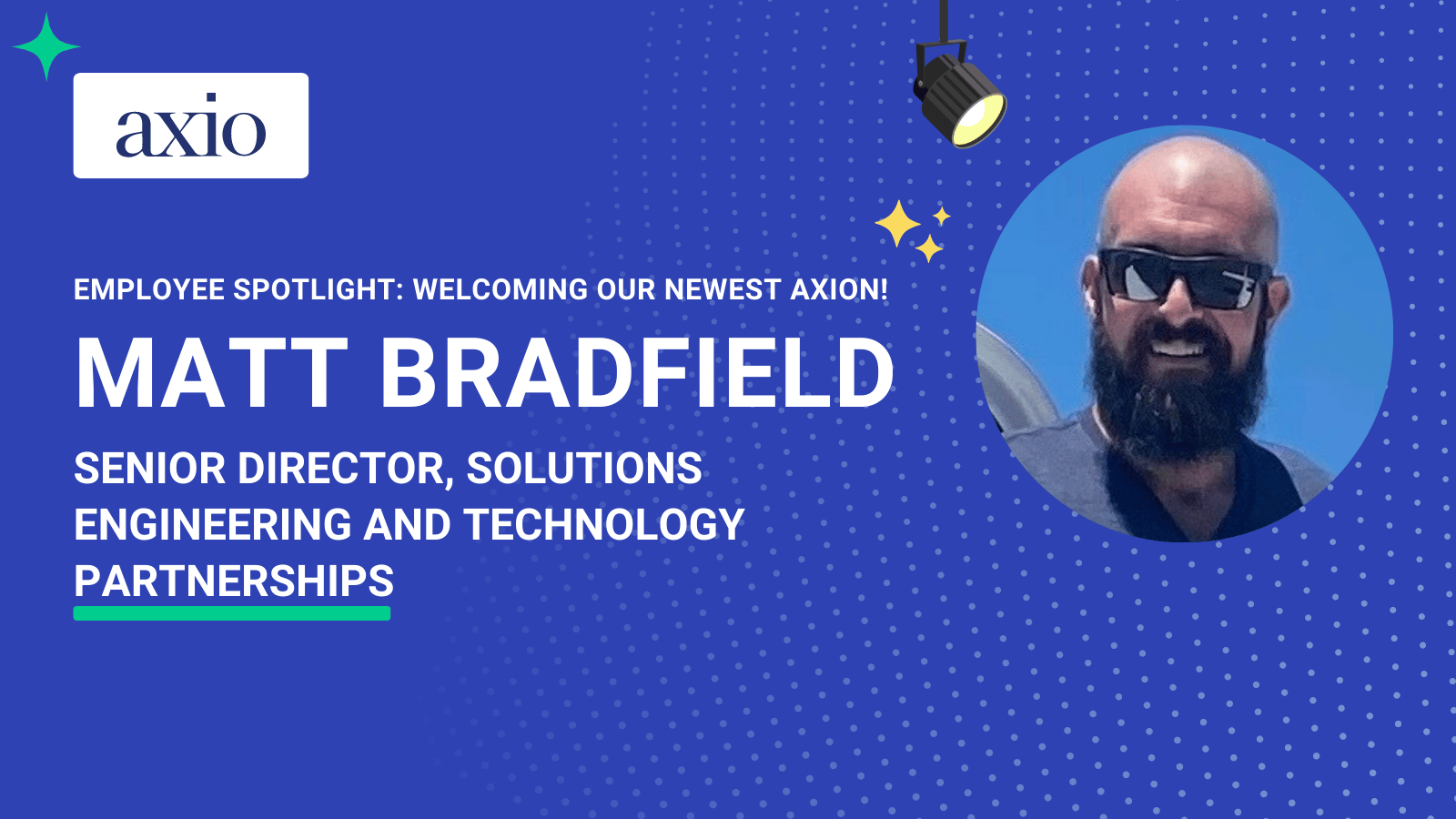 As we continue to grow our Axio family, we're turning the spotlight on our newest members. Today, we're excited to welcome Matt Bradfield to the team. Matt is the latest addition to the Solutions Engineering team at Axio.  
How did you get started in Solutions Engineering? 
I started my professional career doing systems admin work and basic consulting for the SharePoint platform when a friend of mine referred me to a job in Boston as a support engineer for a SharePoint products company. I jumped on a new technology that we released when I started and quickly became the subject matter expert on all things migrations. After about 6 months of doing this, I went to an onsite in Connecticut with our VP of Sales to talk technical depth around an upcoming migration project, and it impressed the VP, so he brought me over to Pre-Sales. It was an amazing transition for me; I was able to leverage my technical background and depth but in a new direction that I found very exciting/intriguing/interesting. 
Why do you like Solutions Engineering?  
I've always been an extroverted nerd. Ever since I was a little kid, I was tinkering with technology, watching Star Trek, playing PC games, taking apart and reassembling stuff to see how it worked, and incessantly telling people about all the cool things (I thought) I'd figured out. When I discovered solutions engineering, it stimulated the same parts of my brain. To thrive in this type of role, you really need to immerse yourself in the technology stack while also understanding in a great deal of depth what the business environment the tools operate in looks like. From there, it's really just having conversations with folks about their day-to-day lives, the problems they face, and how the technology stack you represent can materially improve them. No two days are ever the same; conversations are similar to where you feel comfortable in them but never become routine and the problems you talk about continue to evolve. I can't think of anything that's a better fit for my personality and skillset. 
What interests you about cybersecurity? 
The constantly evolving landscape, challenges, and technologies combined with the fact that every organization on earth is facing some subset of these issues. It's an arms race of unprecedented size and scale that you can see evolving before your eyes over the course of a career. This isn't going to go away either, as cybersecurity continues to become a strategic imperative for organizations and the sophistication of threat actors grows by leaps and bounds. 
What hobbies do you enjoy outside of work? 
I live in central Florida, so beaches, biking, and theme parks are all regular parts of my calendar. I spend as much time as I can reading, listening to podcasts, and keeping up with my dog, baby, and 3 stepchildren. Travel used to be a regular part of the mix prior to COVID, but I haven't gotten back into that yet. 
What is your favorite place you have traveled to? 
Have had quite a few great trips, but I went to Japan in March of 2016, and it was amazing. Between the cherry blossoms, a baseball game, the shrine of Tokugawa Ieyasu (Shogun is one of my favorite books), incredible people, great food, and rich history, I will never forget it.
 
Welcome to Axio, Matt! We're thrilled to welcome you to our growing, vibrant team!