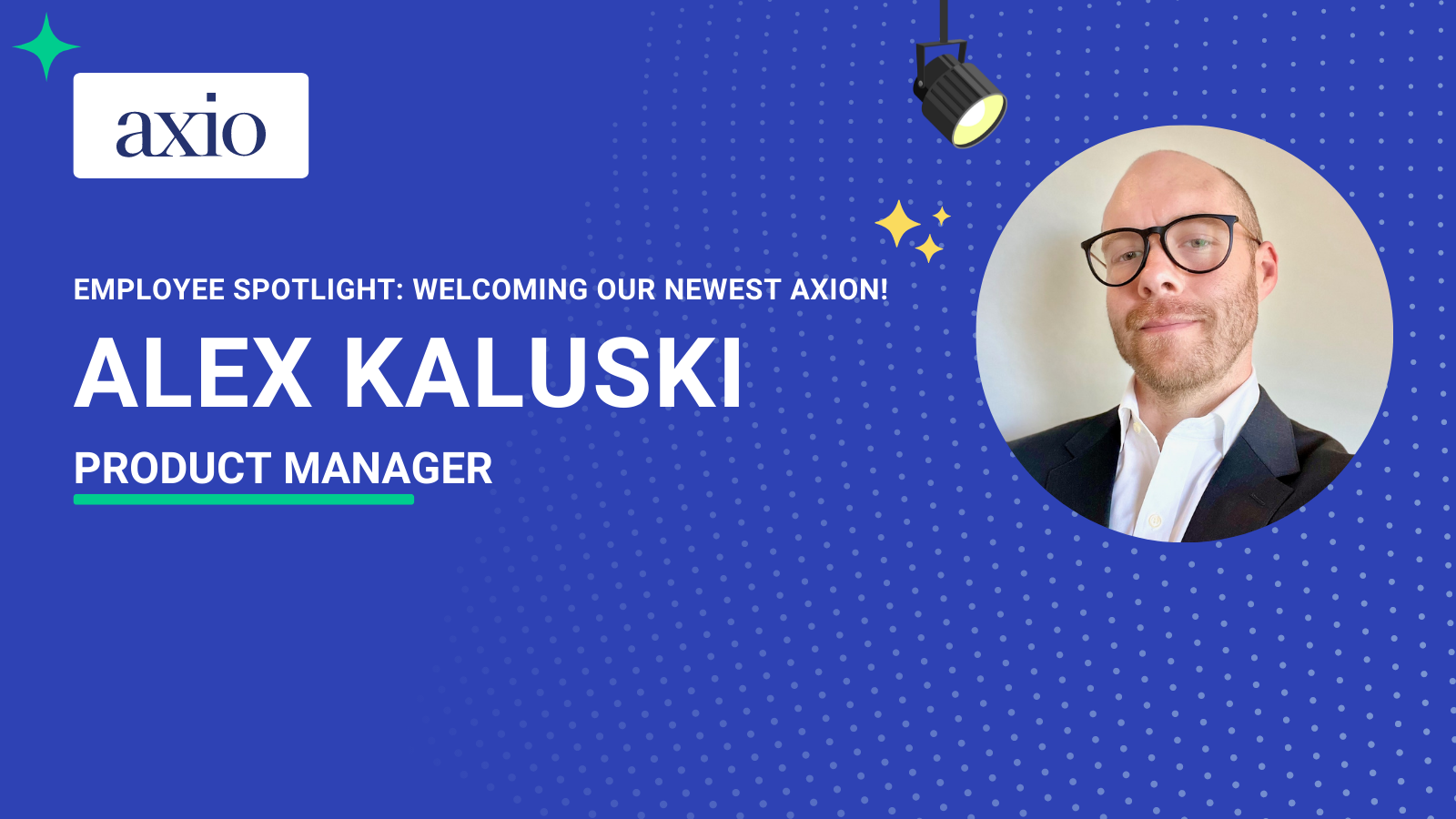 As we continue to grow our Axio family, we're turning the spotlight on our newest members. Today, we're excited to welcome Alex Kaluski to the team. Alex is the newest member of the Product Management team at Axio.
How did you get started in Product Management?
I started Product Management twelve years ago at a cybersecurity company called Trustwave. There I worked on a product that streamlined the PCI DSS compliance and assessment process. There I also created and launched a tool for major credit card brands to identify merchants criminally laundering transactions via e-commerce businesses, and at the time became the standard tool globally for detecting this form of cybercrime.
Why do you like Product Management?
I really enjoy problem-solving and finding solutions for market demands. Product management of software-based solutions, especially SaaS, offers a fast-paced environment that suits me well. Additionally, Product Management often finds itself in many cross-functional capacities within the company that provides me the ability to meet, interact, and learn from a variety of different specialized peers. Meeting and frequently interacting with our customers is important to my role and informs the decisions I make for the product.
What interests you about cybersecurity?
Having spent my entire professional career in cybersecurity the thing I enjoy the most is the rapid growth and advancements within the industry. Everything moves fast in cybersecurity, so I enjoy being an implementor part of that ever-growing wave.
What hobbies do you enjoy outside of work?
Outside of work, I am an amateur race cyclist, so if I'm not working, I'm likely training for my next event. I also really enjoy cooking, gardening, and traveling with my wife.
Where are you from?
I was born and spent most of my life in Chicago. Last winter my wife and I moved to Austin, Texas for her job. The mild winter in Texas was very easy to adapt to as a Chicagoan; however, the summer has been interesting with the heat. I really enjoy it in Austin so far.
What is your favorite place you have traveled to?
I've been fortunate to have spent time in just over fifty countries. The place I enjoy the most and find myself going back to most often is Paris. Being a foodie it's difficult to beat the high concentration of great meals to be found.
Welcome to Axio, Alex! We're thrilled to welcome you to our growing, vibrant team!