In today's business climate CFOs must understand and communicate how cyber risk translates to dollars and cents. This challenge arises during discussions about cybersecurity budgets, leading to potential confusion. And there are many voices in the room competing for cybersecurity spending dollars.
The CISO advocates for cutting-edge technologies, often accompanied by a hefty price tag and color-coded heat maps to underscore urgency.
Meanwhile, the legal team anticipates the need for specialized attorneys and compliance experts amid evolving SEC cyber regulations, emphasizing the proactive avoidance of regulatory complications.
The risk manager further contributes to the budgetary landscape, seeking additional funds for elevated cyber insurance limits to mitigate potential losses.
This familiar scenario prompts reflection: did the budget cycle commence with the hope of a streamlined cybersecurity budget, only to be thwarted once again? Alternatively, were you among the CFOs adept at navigating these dynamics, ensuring a balanced and confident approach to the budget cycle, and ultimately achieving cybersecurity instability?
Where should you begin?
Strengthening your relationship with the CISO is the paramount first step to gaining a much clearer picture of cyber risk. As the holidays approach and the year comes to an end, we have compiled these ten tips to ensure CFOs can ensure sure cyber risk does not get lost in translation in 2024 AND enable better cybersecurity communication with the entire organization.
Without further ado, here they are:
Develop a trusted cyber risk quantification methodology
Establishing a unified and reliable method for quantifying cyber risks can help CISOs and CFOs align their understanding of potential threats and prioritize investments effectively. The notion of how to properly manage cyber risks is changing, with security leaders moving away from simplistic cyber risk reports and pursuing more meaningful financial analysis. When done pragmatically, CRQ allows you to prioritize projects, justify budgets, and ease into insurance renewal decisions.
---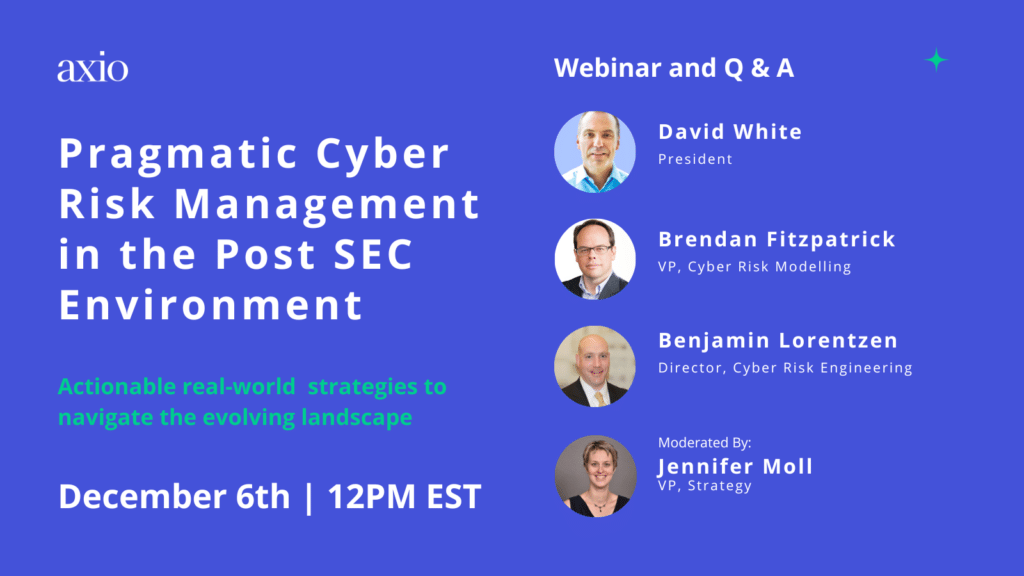 Register for our Pragmatic Cyber Risk Management webinar to learn more about cyber risk quantification
---
Collaborate on building a cybersecurity system of record
Implementing a shared cybersecurity system of record can streamline communication and collaboration to enable a real-time view of the organization's security posture and financial investments in cybersecurity. For the CISO, this is a worthy initiative as it establishes transparency for their decisions and actions, enables more accurate information to be relayed, an authoritative source to document and justify their actions, and protects the organization from litigation.
Curious to see what a cybersecurity system of record looks like? Request a demo of Axio360.
Define cyber investment ROI reporting
Transparency is key when it comes to cybersecurity investments. As CISOs decide to implement various control initiatives, showing risk reduction relative to investment can lead to a less stressful budget approval process.
The image below is an example of what's possible with cyber risk quantification when focusing on impact first. In this anonymized output from an Axio client, a CISO was making a budget argument for deploying up to 5 new (or improved) controls in the organizations.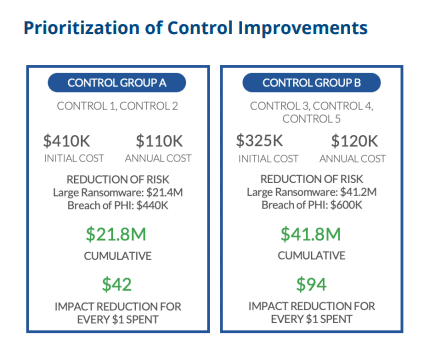 You can see the controls split into group A and group B. The CISO thought he could only get funding for the two controls in group A. However, the organization needed the controls in group B as well. By focusing on impact, it's easy to explain the greater return on investment by implementing both control groups.
Align cybersecurity goals with business objectives
Understanding how cybersecurity measures contribute to the achievement of organizational goals helps in creating a shared vision and strategic alignment.
Organize regular joint training and awareness programs
Cybersecurity is a dynamic field, and both CISOs and CFOs need to stay informed about the latest threats and security measures. Joint training sessions and awareness programs can facilitate a common understanding of cybersecurity issues and foster a proactive approach to risk management.
Establish key performance indicators (KPIs):
Collaboratively set and monitor Key Performance Indicators (KPIs) for cybersecurity initiatives. Defining measurable goals ensures that both the security and finance teams are on the same page regarding the effectiveness of cybersecurity measures and the value they bring to the organization.
Implement a cross-functional incident response plan
In the event of a cyber incident, having a well-defined and practiced incident response plan is critical. CISOs and CFOs should collaborate to develop a cross-functional incident response plan that addresses both technical and financial aspects of a cyber crisis.
Create a dedicated cybersecurity budget
Work together to establish a dedicated budget for cybersecurity. This ensures that the necessary resources are allocated to address evolving cyber threats and allows for better financial planning, avoiding ad-hoc budgeting for security emergencies.
Periodic risk assessments and scenario planning
Regularly conduct joint risk assessments and scenario planning exercises. Cybersecurity assessments provide a standard way to align your cybersecurity team to your critical gaps. Industry-recognized frameworks like NIST CSF can help you identify any areas of your cybersecurity program that need attention. These frameworks are trusted, respected, and can reduce complexity.
Beyond thinking about defense, cybersecurity budgets require a proactive approach to align cybersecurity posture with the overall business strategy. Thinking about how cybersecurity scenarios impact the business financially can help take the uncertainty of budget prioritization. Additionally, speaking in dollars and cents can help you dispose of vague traffic light reporting that often leads to debate and budget delays. Cyber risk quantification highlights the cost of making security improvements versus the potential loss of not doing so.
This proactive approach allows CISOs and CFOs to anticipate potential threats and assess the financial impact, enabling informed decision-making and resource allocation.
Encourage open communication and collaboration
Foster a culture of open communication and collaboration between the cybersecurity and finance teams. Regular meetings, feedback sessions, and shared documentation contribute to building a strong foundation for a collaborative and successful partnership.
---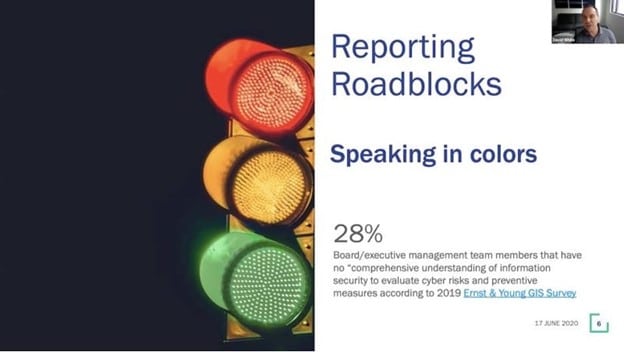 Presentation: In Axio's presentation on cyber risk quantification, co-founder and President David White discusses interactions boards have with CISOs, and the reporting roadblocks heatmaps can present.
---
A strong collaboration between CISOs and CFOs is essential for navigating the complex landscape of cybersecurity and financial decision-making. By implementing these strategies, organizations can ensure a cohesive approach to risk management and position themselves for long-term success in the face of evolving cyber threats. Ultimately, cybersecurity is a team effort. It requires collaboration between IT, legal, compliance, and other stakeholders to develop a comprehensive security strategy that addresses your business's unique risks and needs. If you are unsure about how to best protect your company's data and systems, consider working with a trusted cybersecurity expert who can help you assess your risks and develop a comprehensive security plan.
Reach out to us if you have any questions! By working together and staying vigilant, we can help protect you from the growing threat of cyber-attacks.