In this final step of our continuous cyber improvement series, we'll discuss the importance of having integrated systems in order to increase efficiency.
Just like how your company is broken up into departments, your data may be broken up amongst different databases or platforms. Departments must communicate with one another for a company to function successfully, why should that be any different with data?
Information Trapped in a Silo Doesn't Reach Its Potential
When information is unable to flow either upstream or downstream, it becomes trapped in a silo. This information cannot be communicated to the necessary people, processes and various technologies within the enterprise. It cannot be used to inform decisions or help solve problems. Likewise, the information gained from cybersecurity risk assessments cannot empower improvement if it's unable to integrate with compliance tools or ticketing systems. These systems often possess specialized knowledge that can guide the completion of an assessment. These systems help ensure that the data is current and can give decision makers the visibility they need to take action on system gaps and deficiencies.
Integration Fosters a Holistic Viewpoint
Axio understands that integration increases efficiency and helps leaders better manage their cyber risk program. Axio360 includes a variety of integrations that were designed to ensure that information doesn't get trapped in a silo. For example, action items within our platform can be integrated with systems such as Zendesk and Jira so that your project management tools are connected. Moreover, you can leverage external data sources such as Bitsight, Security Scorecard and Fortify Data to accurately define maturity levels. Axio360 also allows for internal data source integration.
Furthermore, clients have the ability to push cybersecurity risk assessment findings to compliance systems to ensure that your enterprise has the latest maturity understanding. Data from Axio360 can also be pushed real time to Security Operation Centers to complement other critical data from the organization. Information can easily pass through from people, to processes to technologies giving the enterprise a holistic point of view.
Axio360 Can Guide You Along Your Journey of Continuous Cyber Improvement
The journey doesn't end with cybersecurity risk assessments, organizations need a comprehensive platform that can combat cyberthreats holistically. Assessments help companies identify and evaluate their cyber risks. They provide a baseline from which a company can grow and improve. If your organization is just getting started, we provide a C2M2 Quick Launch tool that guides you through a 14-question assessment and it only takes about 30 minutes to complete. The results of this assessment are displayed on a dashboard that prioritizes recommendations. If you decide that you're ready for a more robust assessment, then the answers from your Quick Launch can be pre-populated onto a full cybersecurity risk assessment.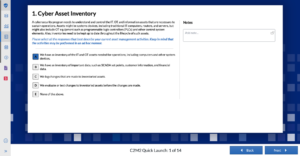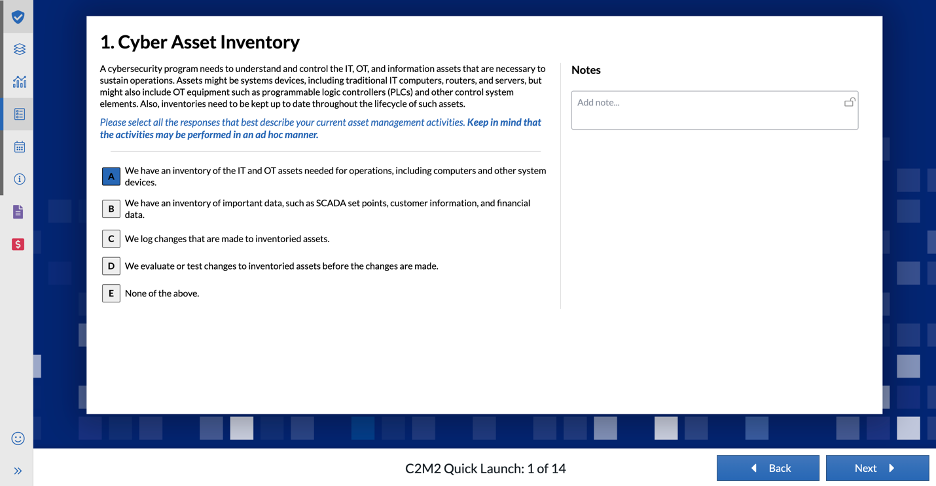 Axio also offers a preferred partner network that can provide additional support. We also have a professional services team that has the expertise to focus on transformational projects. Axio is here to give guidance and help you along this journey of continuous improvement.
Thank you for tuning into the final step in our series. Stick around for a bonus piece where we dive into a case study of how one of our clients were able to improve their cyber posture with Axio360.