This is part one of a 4-part series about continuous cyber improvement and how companies can use the immense benefits of cyber risk assessment to evolve and enhance their cyber risk program.
A Once-A-Year Endeavor  
Many organizations take assessments, but few take action on them. Often assessments are projects that companies only return to on an annual basis but there is a major opportunity to change this approach.
You can make the assessment program work for you by making it a continuous process and incorporating it as an integral part of your cyber risk management program. You can make it a source of data to answer outstanding questions or a roadmap for cybersecurity program evolution. In order to make assessments work for you, you need a comprehensive and current software platform that drives cybersecurity excellence.
Assessment with No Action
To start on the path of continuous improvement, first you need to understand the current state of an organization's cybersecurity program. An annual assessment may satisfy your auditor but will likely not give you the confidence in your capabilities to keep your organization safe from cyber threats in the interim.
Taking one assessment a year does not provide the granularity needed to achieve full visibility of the organization's cybersecurity posture. Assessments should be updated frequently and used as a key element in the cybersecurity planning process. They should be used as a way to identify gaps and shortcomings in order to drive ongoing improvements and change.
A 360 View of Your Cybersecurity Program
Axio360 allows leaders to begin an assessment quickly, simply and independently. Assessments consist of a series of questions about your organization. Throughout the assessment, leaders can take notes while answering questions in order to thoroughly review and measure their program. Depending on the size of your company, there may be multiple assessments that need to take place for separate business units to ensure that you secure the coverage you need.
Our platform makes this process simpler and generates a dashboard that summarizes all these assessments. In addition to dashboards, our platform also generates reports that are available for download. These reports provide more detailed results and comparisons. Axio360 also allows you to connect with various sources of data to deliver on our commitment to continuous assessment and instrumentation. Lastly, if your organization requires a custom solution, our team can partner with you to develop it.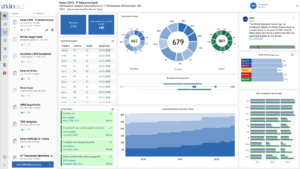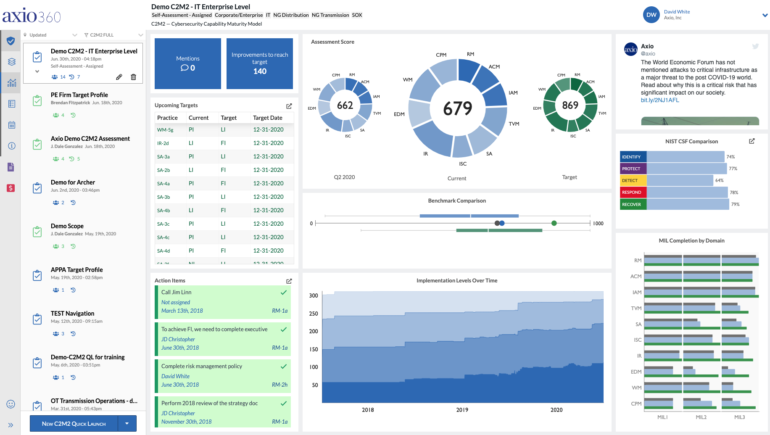 The One-Stop-Shop for Cyber Improvement
Being able to easily assess your current state is important in protecting and securing your company. You need a software that facilitates and delivers on this process. Axio360 is the one-stop shop for leaders to understand their current cybersecurity posture as a critical element of their risk exposure.
In part two, we'll be diving into benchmarking your organization against your peers and creating a roadmap for improvement.