In this second part of our series on continuous cyber improvement, we dive into the importance of benchmarking both internally and externally. We also discuss road-mapping towards your target and the adaptations made along the way.
There are three major points on a cybersecurity journey: where you have been, where you are right now, and where you are planning to be. It is a reasonable and common question to wonder how each of those points compare between different units within your organization and also how you stack up to your peers. In addition to benchmarking, it's also important to plan actionable next steps to improve your cyber resilience while being prepared to deal with adjustments along the way.
Stacking Up Against the Industry
Internal and external benchmarking are important factors to consider when evaluating oneself and deciding how to progress. For large companies, internal benchmarking allows leadership to peer into all units of the organization despite which cybersecurity risk assessment framework each unit utilizes. Internal benchmarking gives visibility across complex enterprises to offer actionable insight and identify weaknesses. It's critical to securing your entire organization.
As for external benchmarking, organizations who are trending behind their peers can be more vulnerable to attacks and events. However, this information can be hard to come by and this comparison can prove to be difficult.
Axio360 Making Benchmarking Achievable
The Axio360 is the cybersecurity assessment tool that makes benchmarking attainable. Our platform contains an aggregate dashboard that automatically calculates internal benchmarking data to compare various parts of your organization. This allows you to identify weaknesses within your enterprise and create actionable next steps.
Additionally, Axio360 provides the means and data to compare your historical, current, and target scores to peer organizations. All of this data is identity-protected but allows you to benchmark across organizations to understand if you're doing enough.
Taking the Next Steps
After conducting a cybersecurity risk assessment of the current state and comparing it internally and externally, organizations need to decide what their next steps are. Prioritizing improvements, building a realistic roadmap, and keeping the roadmap updated are challenging activities. Plans change. Priorities change. Budgets change. Roadmaps can quickly become outdated and futile. Hence, many companies end up abandoning their plans.
A Dynamic Roadmap for Improvement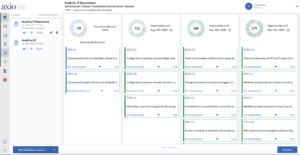 Axio360's platform comes with a Kanban-style column interface that allows you to easily design and adjust your improvement roadmap. It can be easily made viewable (or editable) by your stakeholders. Reprioritizing and adjusting your plan are as simple as dragging and dropping improvement items from one date column to another.
This dynamic roadmap allows you to take the results from a cybersecurity risk assessment, create a plan, prioritize next steps and view what deadlines are coming up. In addition, our cybersecurity assessment tool offers key customizable features based on your needs. It can be adjusted with changing timelines and milestones. Within the platform, there are help texts, asking clients to answer questions and prompting action steps to make a better experience.
At Axio, we strive to build a cybersecurity leadership community and will introduce you to your peers, at your request. We facilitate workshops to offer additional support, introduce cyber leaders to each other and host regional gatherings where we bring multiple companies into the same room (after you've signed an NDA) to share best practices. We are committed to your journey of continuous improvement. Contact us now if you'd like to work with us.
In the next chapter we will dive into how leadership can evaluate their current cyber risk program and prepare for the future.