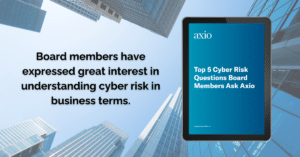 Board conversations are centered around ensuring business continuity and servicing customers without interruption. Despite a global lockdown, certain industries thrived, such as e-commerce and home improvement. Unfortunately, others had to scramble to adapt to digital-first touch-points. Business models were reinvented overnight, and many sacrifices were made by both executive leadership and staff employees.
During this above-described corporate pandemonium, board members suddenly faced an additional new and prioritized risk: the increased likelihood of a successful cyber-attack.
In this eBook, we dive into the top questions that board members have when it comes to cyber risks.