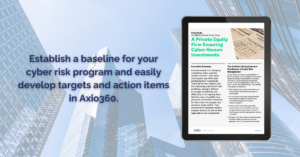 A private equity firm was managing a multibillion dollar portfolio. They needed a way to ensure that their cybersecurity program was keeping their investments protected.
They needed to gain visibility into the underlying risk of their portfolios. With the help of Axio360 they were able to:
Establish a baseline for their cyber risk program
Develop a target portfolio
Construct a roadmap towards program maturity
Download this case study to see how this private equity firm was able to reach their cyber goals by utilizing Axio360 capabilities.