Achieve Real-Time Cyber Improvements with Axio360 NIST CSF Tool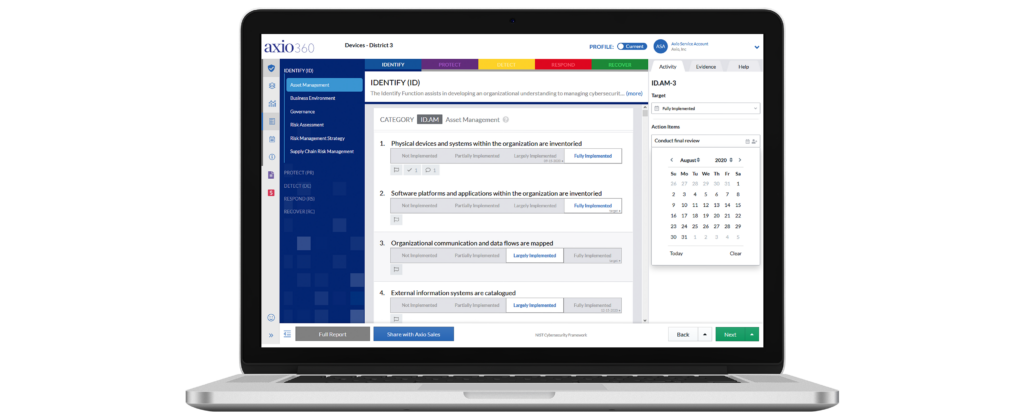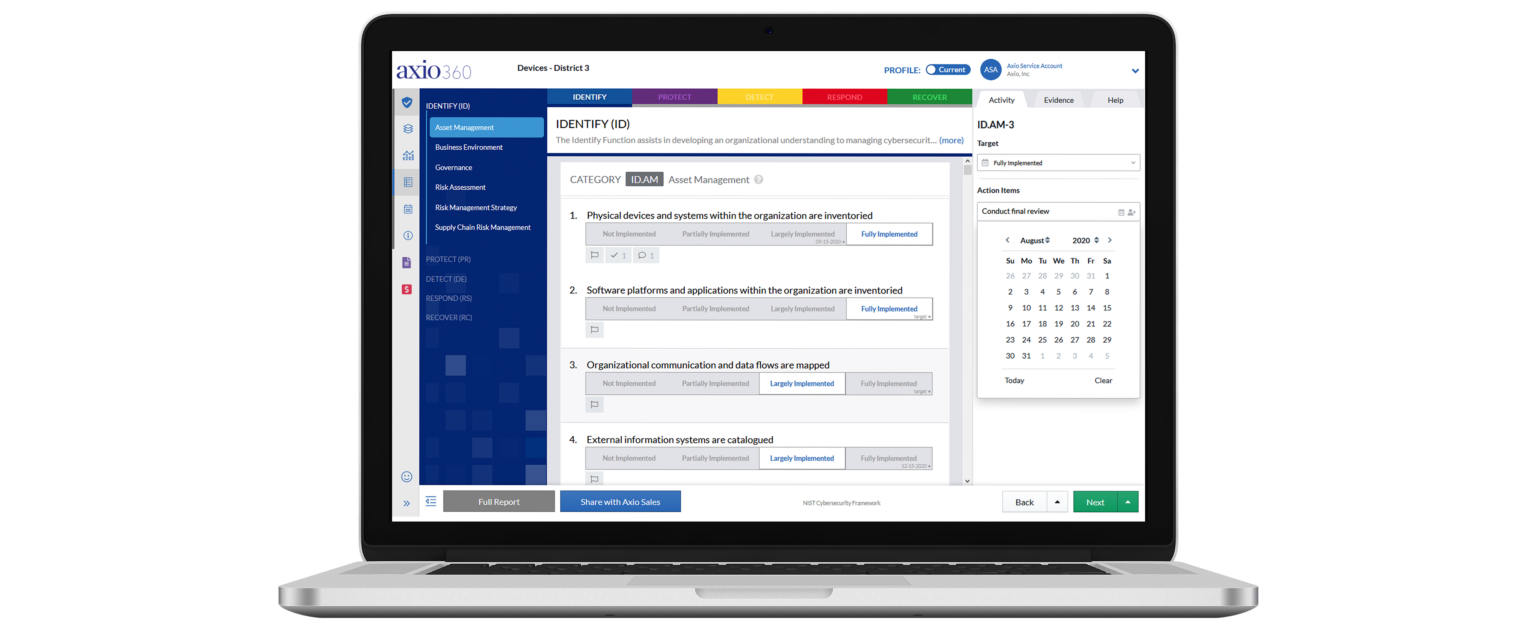 From Assessment to Action
Cybersecurity assessments are vital for protecting your organization. As cyber events have accelerated, however, it is critical to move from traditional periodic assessments to a state of continuous cyber improvement, where assessment and action dynamically inform the other.
A New Way To Manage Cyber
For many organizations, however, assessments can be a laborious and time-consuming. We witnessed firsthand the challenges our clients face and designed Axio360 to make assessments more efficient, actionable, and dynamic. Axio360 makes it easy to collaborate and capture progress in real-time. Organizations can focus less on managing assessments and more on taking action.
Let Your NIST CSF Assessment Be a Catapult, Not a Hurdle
Detailed Cybersecurity Risk Assessment
With the Axio360 NIST CSF tool, you can probe at the subcategory level within each function to diagnose gaps with depth. The platform also helps users triangulate across different cybersecurity frameworks by providing informative references to NIST 800 53 and ISO 27001 and mapping to C2M2 and NERC CIP.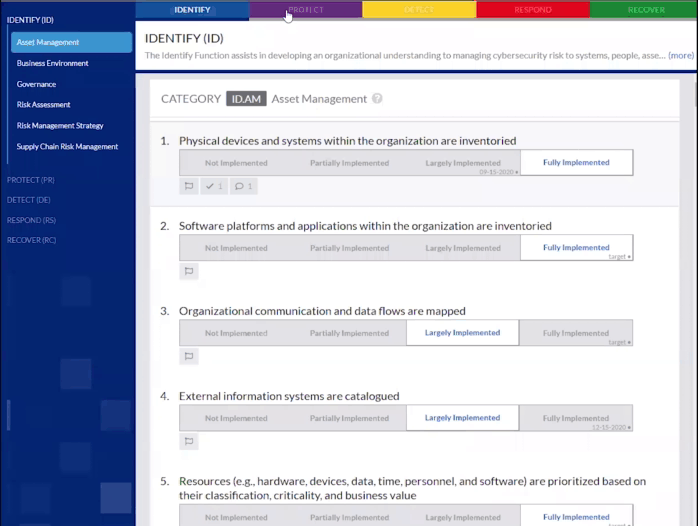 See the Big Picture, at Your Fingertips
After completing NIST CSF assessments over time, you can set milestones to track your progress as you complete your action items for driving improvement and meeting targets. Our robust database also provides peer benchmarks to help you assess where you stand for easy board reporting.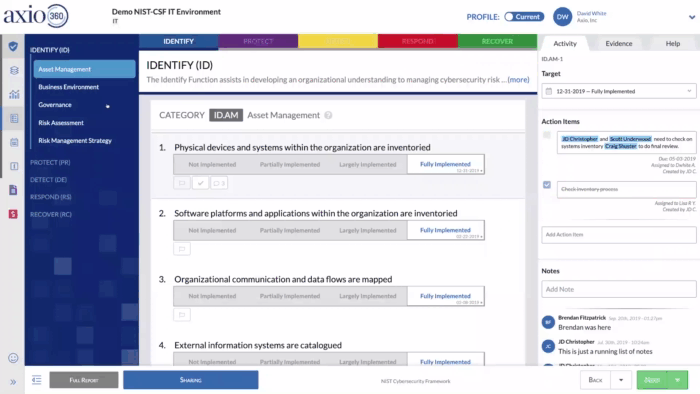 Real-Time Visibility & Collaboration
Our Kanban-style roadmap feature enables users to nimbly sequence and prioritize cybersecurity improvements. Multiple stakeholders can collaborate in real-time and have access to the latest cybersecurity risk assessment results for real-time visibility and reporting. Axio360 allows stakeholders to take notes, create and assign action items and more, right in the cybersecurity risk assessment.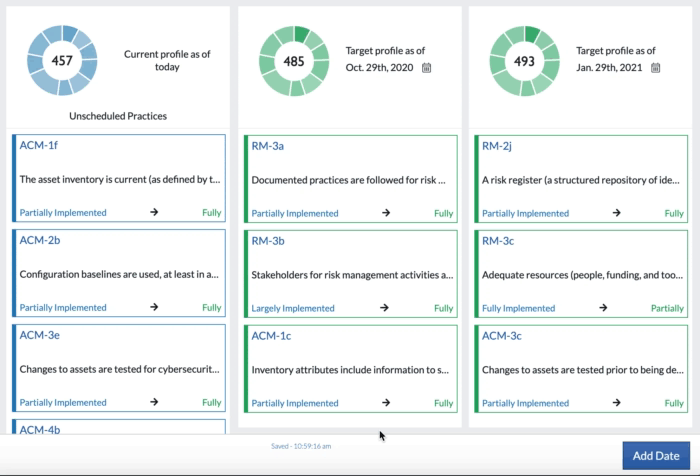 NIST CSF – It's Time To Move Beyond Spreadsheets
For various reasons, NIST CSF has often been presented on a default basis in a spreadsheet environment. Spreadsheets are functional when it comes to familiarizing yourself with the basic structure of a framework, but the bottom line is that they can be an extremely inefficient approach to managing your cyber risk program.
Specifically, spreadsheets are not conducive to collaboration among peers. That's because the approach leads to multiple versions of the same excel files passing through the organization in several directions, Feedback often gets lost, this version control becomes a headache and the result is extended periods of time to achieve progress.
Not to mention, presenting a NIST CSF in a spreadsheet makes it much more difficult to act on assessment findings and control gaps.. The multiple tabs present in any spreadsheet leads to deficiencies regarding gap analysis that can take hours to overcome. Given that identifying deficiencies for program improvement is the entire point of completing a NIST CSF assessment in the first place, manual efforts just don't cut it.
Finally, completing a NIST CSF assessment in a spreadsheet is not scalable, which prevents you from reporting progress to executive leaders in a way that makes sense. If you'd like to learn more about how Axio can help you streamline your NIST CSF processing time and collaboration steps, please contact us today to learn more.