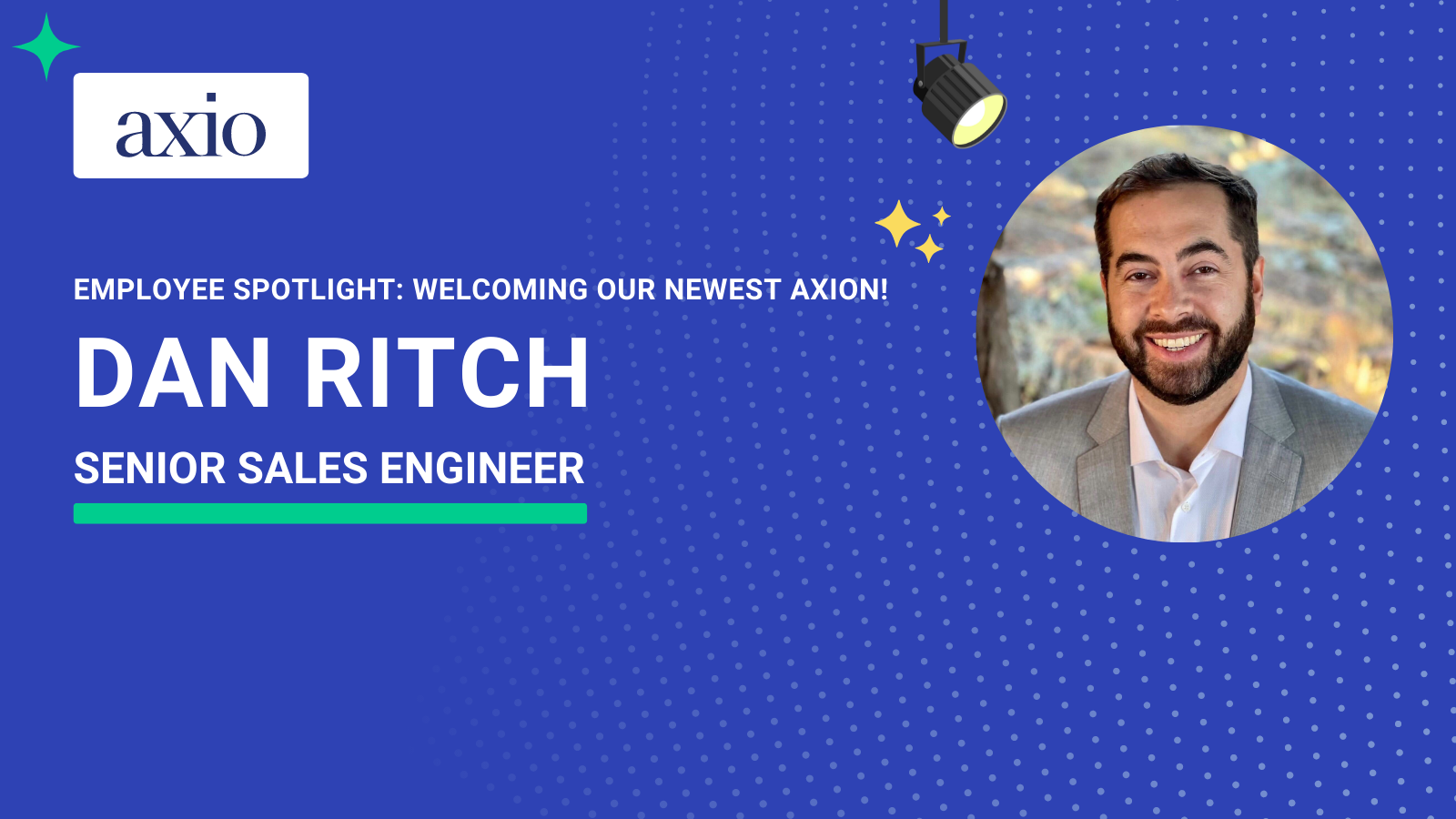 We're excited to welcome Dan Ritch as the newest member of the Axio team. With many years of experience in cybersecurity, Dan joins us as Senior Sales Engineer. Read on to learn more about Dan's background, career path, and why he decided to join us at Axio.
What interests you about cybersecurity?  
Cybersecurity is a deceptively difficult problem to solve.  At first glance, it seems like basic security precautions akin to locking doors and windows would prevent most breaches.  Software like multi-factor authentication, logging tools, access management vaults, and a least privilege program should theoretically protect any company.  It turns out that implementing a cybersecurity program with no gaps that is also immune to any human error is incredibly difficult.  Chipping away at the problem and making organizations safer has been a meaningful career.
How did you get started in cybersecurity?  
In 2015, I joined a Privileged Access Management company called Thycotic.  Up until that point, I had been in IT Sales, technical support, and professional services – all security adjacent but without any particular focus area.  Because Privileged Access Management touches on most other areas of an organization's security policies, it was a great introduction to cybersecurity and the challenges IT departments across the world are facing.
How did you get started in Sales Engineering?
Thycotic was looking for someone from the technical side of the house with sales experience to do product demos and help customers test their software.  It turns out that people with experience in both areas are an oddity – sales people are rarely interested in "getting into the weeds," and technical people rarely like public speaking.
What do you like about being a Sales Engineer
Explaining difficult technical concepts in a way that non-technical people can understand is something that I enjoy a lot.  Tailoring a demo to a particular customer's needs is also satisfying – it's rare to go into any other conversation knowing in advance exactly what information someone needs, and what their priorities are.  I've found that even deeply technical material can be fun to talk about if it's presented in the right way.
Any Pets?  
We have a 15 year old Cocker Spaniel named Lucky and a doofy young Goldendoodle named Frida.  Neither one of them knows how to dog correctly, but they're a joy to be around.
What hobbies do you enjoy outside of work?  
I'm an avid reader – after years of reading ebooks, I'm collecting paper copies of everything I've read and switching to physical books going forward.  While I don't have much time for gaming since having a child, I keep a gaming PC reasonably upgraded and occasionally sink a few hours into Elden Ring or Subnautica.  My wife and I also love hiking with our dogs whenever we get the chance.
Where are you from?  
Barrington, Illinois – a suburb of Chicago.  I've lived in downtown Chicago, Michigan, Connecticut, Seattle, Washington DC, and Washington state.  While my family and I currently live in Spokane, I still consider Seattle home.
Welcome to Axio, Dan! We're thrilled to welcome you to our growing, vibrant team!