On October 18th, 2023, at 11 AM EDT, we will be hosting a roundtable discussion titled "Boardroom Insights: Unveiling C-Suite Perspectives on SEC Cyber Rules Impact". This event aims to shed light on the new SEC cyber disclosure rules and the confusion and uncertainty surrounding these regulations, especially regarding the reporting of material cyber incidents. These rules are currently in the spotlight due to recent cyber-attacks and the negative financial impact on the victims. The discussion will focus on finding a pragmatic solution to achieve compliance and bridge the gaps across multiple organizational domains.
Join us as we bring together leading experts in the domains of Compliance, Financial Reporting, and Cybersecurity for the first time on one digital stage. Hear unfiltered viewpoints from our expert panel and ask your most pressing questions about the new rules. Get guidance for SEC cyber disclosure compliance and learn how to navigate these new requirements before the rules go into effect in December 2023. The panel discussion will be broadcast live, offering a unique opportunity to engage directly with industry leaders.
We encourage you to email questions for our panelists at [email protected]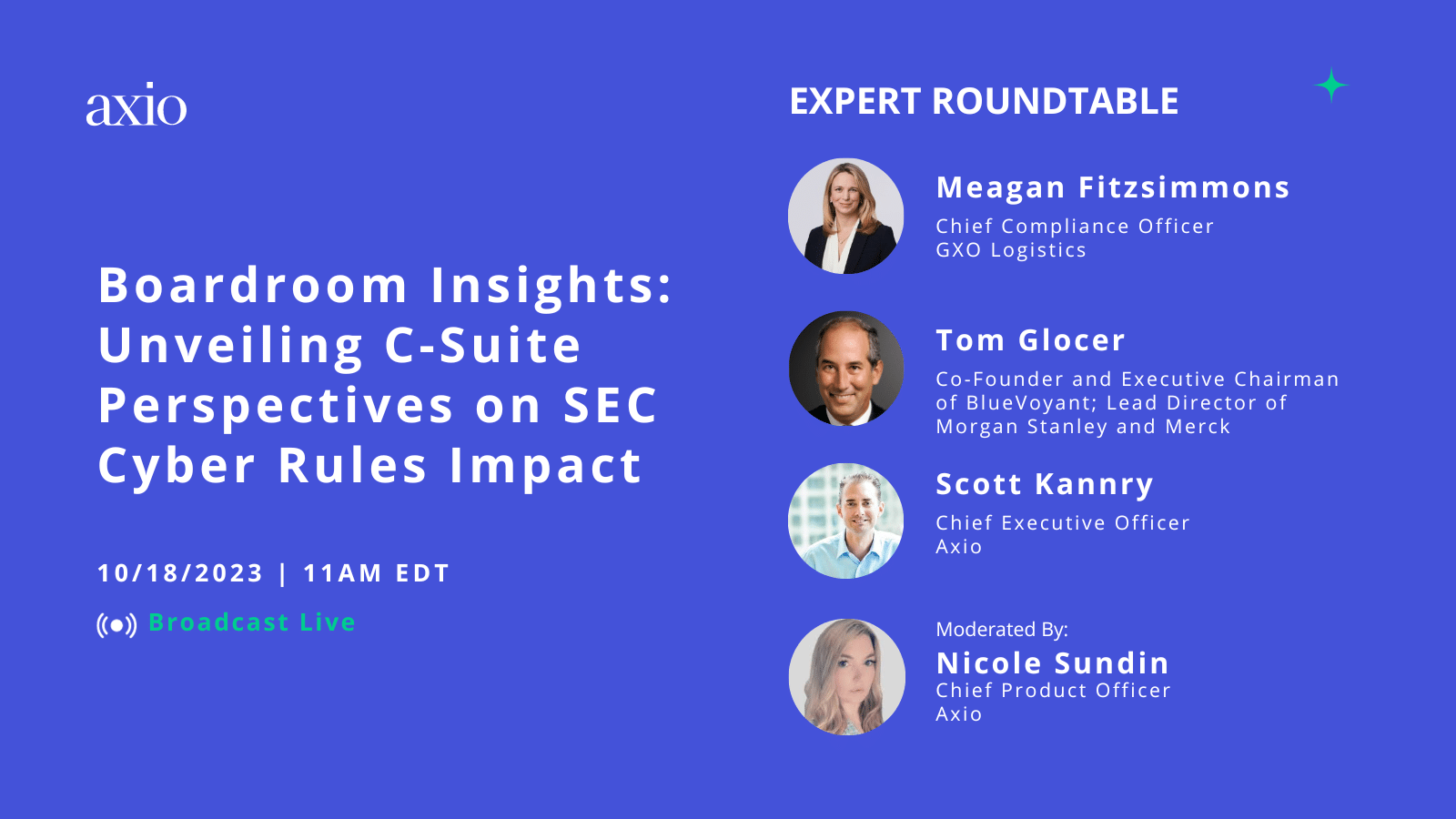 Our panelists:
As the Chief Compliance Officer at GXO Logistics, Meagan Fitzsimmons brings an in-depth understanding of the compliance landscape. She will share strategies for gaining a compliance advantage in light of the new rules.
Tom Glocer is the Co-Founder and Executive Chairman of BlueVoyant and the Lead Director of Morgan Stanley and Merck. He will provide tips to empower board members in their roles and responsibilities amidst the changing regulatory landscape.
Scott Kannry, the Chief Executive Officer at Axio, will answer the materiality question pragmatically, offering insights into the practical aspects of complying with the new rules.
The panel discussion will be moderated by Nicole Sundin, the Chief Product Officer at Axio. She will guide the conversation through a lens of usable security, ensuring that the discussion is not just theoretical but also practical and actionable.
This roundtable discussion aims to provide a comprehensive understanding of the new SEC cyber disclosure rules and their impact on various aspects of business operations. Whether you're a compliance officer, a cybersecurity professional, or a member of the board, this discussion will offer valuable insights to help you navigate the impending changes.
With the rules expected to go into effect in December 2023, this discussion is a timely opportunity to ask your most pressing questions and get expert guidance on SEC cyber disclosure compliance. So, reserve your seat and join us for this enlightening discussion! Visit learn.axio.com/SEC-roundtable for more information.
The event will be broadcast live on 10/18/2023 at 11 AM EDT. Don't miss this opportunity to gain insights straight from the experts and prepare your organization for the new SEC cyber rules. We look forward to seeing you there!