Does your cybersecurity leader have a cat twin? Is your cyber leader stubborn? Or is your cyber leader flexible and able to adapt to a changing environment? In celebration of National Cat Day on October 29th, we are proud to present the top 5 cats* who may most resemble your cybersecurity leader and program.
By the way, how prepared is your organization for a cyber cat-astrophe? In Axio's recent 2021 State of Ransomware Preparedness Report, we discovered that many organizations lack fundamental security controls that help prevent ransomware. We'll be discussing the implications of this research and how effective cybersecurity planning starts with communication in our November 4th Webinar, featuring Axio Chairman Bob Dudley, Scott Kannry, and Accenture Global Cybersecurity Lead Rex Thexton. You do not want to miss this!
Agreeable Cyber Cat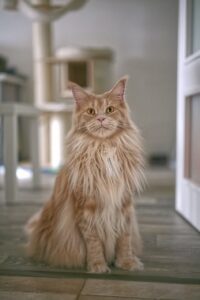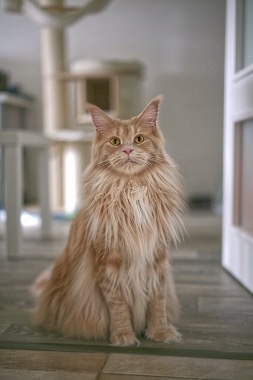 Your wish is my command: Affectionate, Gentle, and Friendly
This type of cyber cat encourages participation across the organization. They want their team to collaborate and share program deficiencies. By expressing openness to new ideas and methodologies, social cyber cats excel at being visible change agents for the organization. Social cyber cats are very vocal and encourage PowerPoints as well as extensive meetings to discuss the future. Often times these types of cyber cat is more obsessed with check-the-box compliance activities rather than dedicated threat-hunting. They don't have a hard stance on any security subject or express a mission for the organization. They go with the flow and enjoy the scenery.
Maine Coons are known as the "gentle giants" and possess above-average intelligence, making them relatively easy to train. They are known for being loyal to their family and cautious—but not mean—around strangers but are independent and not clingy.i
Dominant Cyber Cat
All threats must be eliminated: Aggressive and Precise.
Optimal defense and protection are a top priority for this cyber cat. Its peers can't deny technical aptitude and depth of experience in the industry. A dominant cyber cat's track record is indisputable. You can see them at various conferences showcasing accomplishments, participating in round-table conversations with other cyber technology leaders. They are threat hunters, innovators, and masters of the attack surface. Their technology stack and cyber vocabulary is bigger than yours.
Japanese Bobtails were bred specifically as hunting cats, helping silk factories keep the mouse population at bay. Like several other cat breeds throughout history, the Japanese Bobtail was considered a sacred animal back home.ii
Neurotic Cyber Cat
You can't touch this: Suspicious and pessimistic
Neurotic cyber cats work within a highly specialized security organization they trust. Their subordinates may have different titles and responsibilities but share the same mental model. Neurotic cyber cats are thinkers in the now, not for the future. In their mind, if there are no breaches, there are no problems. These cyber cats are often working inside a confined budgetary space, and this creates anxiety for them. Neurotic cyber cats don't trust outsiders. They don't like consultants telling them what to do. Outsiders are a threat. New ideas are untested and should be sniffed and poked at carefully, but never held.
Neurotic cats come in all shapes and sizes and are not specific to any breed. Their personality is often influenced by their upbringing and environment.
Impulsive Cyber Cat
I do what I feel: Unpredictable
Impulsive cyber cats can be easily distracted and tantalized by the latest shiny object. To them, a new security tool is often perceived like a new toy. They are often very knowledgeable but stubborn in their representations of cyber risk. To them, they achieve comfort in qualitative methods that provide wiggle room. They love talking risk in heatmaps. Red is a priority, they say. And yellow risks matter a little less. However, they often change priorities depending on the latest trend, never looking at impact from a financial perspective. To them decreasing impact is a heatmap looks like a sea of green.
Garfield (represented by a tabby above) is an overweight anthropomorphic orange tabby noted for his laziness, smug sarcasm, and intense passion for food, particularly lasagna, pizza, and ice cream.iii
Extraverted Cyber Cat
A risk thinker: Curiosity and vigilance
Extraverted cyber cats have good situational awareness. Their goals for the security organization are aligned to the business. This is because they look at cybersecurity as a business problem. Extraverted cyber cats understand qualitative analysis are old-fashioned and fail to support and defend the priorities in a long-term cybersecurity roadmap. Extraverted cyber cats like to quantify risk in dollars and cents, and plan their projects based on prioritized risk reduction.
Bengals are famed for their curiosity, ability to learn, and overall mental sharpness.iv
*We are using visual aids of cat breeds to accelerate personality recognition. Despite these traits being backed by scientific analysis no two cats from representative breeds are truly alike.
Share Your Cyber Cat Leader And Win a $250 Visa Gift Card
Do you see your cat leader below? Let us know and be automatically entered to win a $250 Visa Gift Card.
Tag #MyCyberCat and #Axio on LinkedIn and share the image most resembling your cybersecurity leadership and automatically be entered to win.
Winner announced on Axio on November 15th so don't delay!